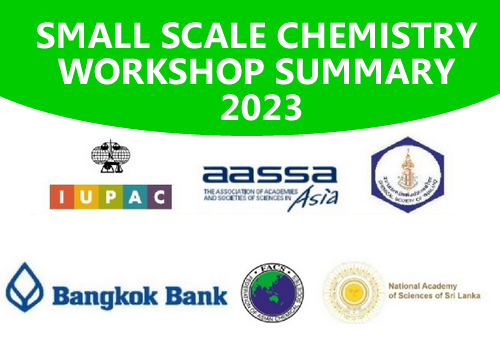 Small scale Chemistry workshop summary 2023
REPORT
Capacity building of teachers in chemistry hands-on small-scale experiments in high schools in Asia: Sri Lanka
19 to 20 July 2023, National Institute of Education, Maharagama, Sri Lanka
The workshop on Small Scale Chemistry Training was held on 19 to 20 July 2023 in Colombo, Sri Lanka for Government secondary school teachers. The workshop was jointly organized by International Union of Pure and Applied Chemistry (IUPAC), Chemical Society of Thailand (CST), Federation of Asian Chemical Societies (FACS), National Academy of Science of Sri Lanka (NASSL), National Institute of Education of Sri Lanka (NIE), Committee of Women in Science and Engineering (WISE) of Association of Academies and Societies of Science in Asia (AASSA) and supported by Bangkok Bank Public Company Limited and Commercial Bank of Sri Lanka.
The objectives of the project were to introduce and promote chemistry teaching with hands-on experiments using small quantity of chemicals, called small scale chemistry. Using this technique will automatically prevent pollution for a safer environment and lower the risk of chemical hazard while performing chemistry experiments without compromising the quality of learning. Furthermore, it will allow the students to do the experiments in concomitant with the lecture in the classroom, which will be a new approach to attract the students' interest in science. In addition it is aimed to raise awareness on chemical safety, green chemistry and sustainable development goals. Small scale chemistry experimentation can be the pathway for learning those three concepts which are correlated with one another, to build a network of small scale chemistry teachers in Asia. The extensively trained teachers, along with the networking with the teachers from other Asian countries, are expected to act as trainers for other teachers in their respective countries to motivate the students to take an interest for further study in chemical science in Sri Lanka and Asia and strengthen the role of chemistry education towards the achievement of UN Agenda 2030 and SDGs.
One hundred secondary school (O/L and A/L) teachers from 9 provinces and teacher trainers (10 from NIE) in Sri Lanka attended the workshop. They were trained to be able to design their own small scale chemistry experiments using the local materials which is more practicable and less costly.
The following members from the Chemical Society of Thailand & Malaysia trained and conduct the experiments.
Supawan Tantayanon, Chulalongkorn University
Vudhichai  Parasuk, Chulalongkorn University
Prof. Dr. Narumol Kreua-Ongarjnukool, King's Mongkut's University of Technology North Bangkok (KMUTNB)
Dr. Zuriati Zakaria, Institute Kimia, Malaysia
Pornprom Chaichatpornsuk, Chulalongkorn University
Prof. Dr. Supakorn  Boonyuen, Thammasart University
Prof. Dr. Singto Sakulkhaemaruethai, Rajamangala University of Technology Thanyaburi
Prof. Dr. Boonnak  Sukhummek,  King Mongkut's University of Technology Thonburi
Prof. Dr. Thitinat  Sukonket, Suan Dusit University
Prof. Dr. Duangruthai  Sridaeng, Rangsit University
Sudkanueng  Singto, National Nanotechnology Center
Chayawin  Chomngam, Prachinratsadornamroong School
The training program was a 2-days workshop with 9 hands-on experiments. The registration began on 19th July 2023 at 8.00 am and at 9.00 am the opening ceremony commenced.  The Ambassador of Thailand to Sri Lanka H.E. Mr. Poj Harnpol, graced the inauguration as the chief guest with Mr Vipula Kulathunga from Ministry of Education as the Guest of Honour.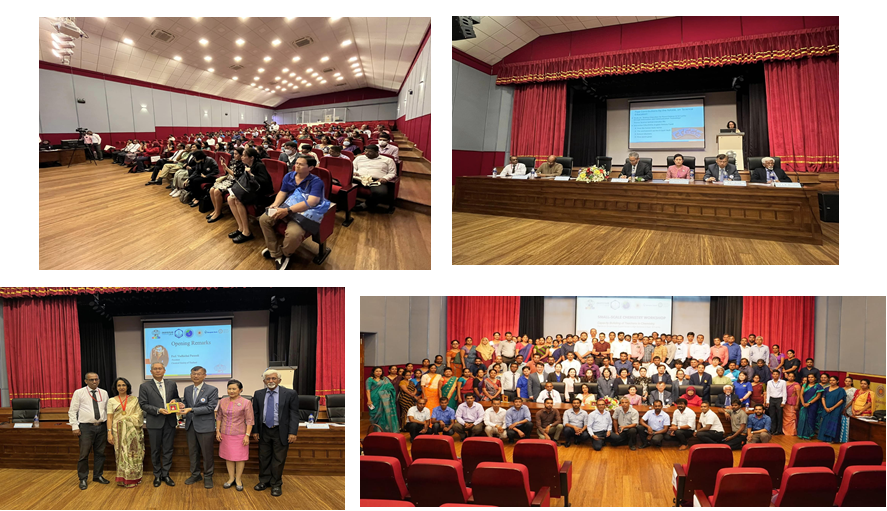 Opening Ceremony
https://youtube.com/live/R4jefXWkcEw?feature=share
Technical session followed after the opening ceremony. The participants were given pretest questions on 17 July 2023 to assess their knowledge on small scale chemistry. The program started with the lecture by Prof. Supawan Tantayanon on the concept of small-scale chemistry and green chemistry. She also introduced the experimental kit to the participants. Each experiment was explained and demonstrated to the participants with the theoretical background and they were asked to follow the manual book for every experiment precisely. The nine experiments were conducted by the teachers on 19th and 20th with the trainers explaining each experiment and teachers guided by on conducting small scale experiments.
At the end of the training the Chemistry Society of Thailand invited the participants to create small scale chemistry videos for a competition. The ten winners will be selected to participate in PACCON 2024, Thailand to be trained as trainers and have an opportunity to attend the International Small Scale Chemistry Conference. When they return, they are expected to train other Sri Lankan teachers. The event concluded with a Closing Ceremony at, Auditorium Hall, NIE, Dr. Asoka De Silva from NIE was Master of ceremony of the closing session.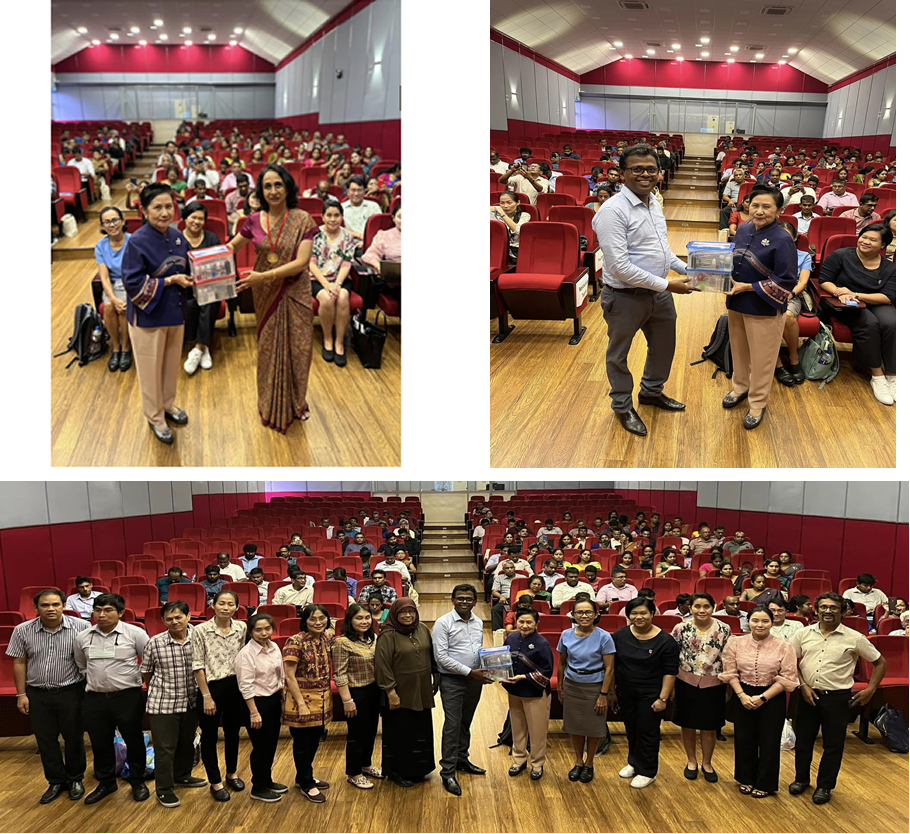 Closing ceremony